Boat Trips to Fort Myers Beach, San Carlos Island and Lover´s Key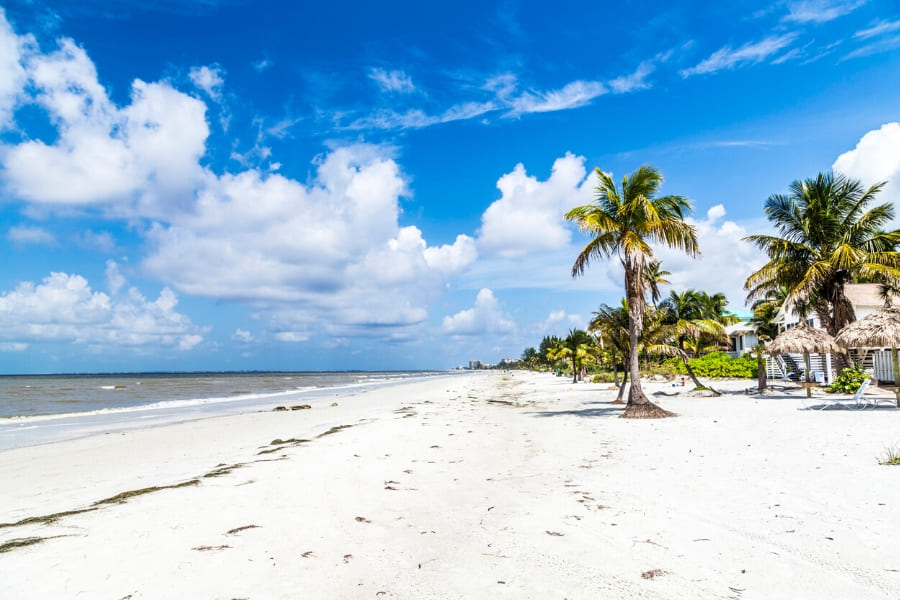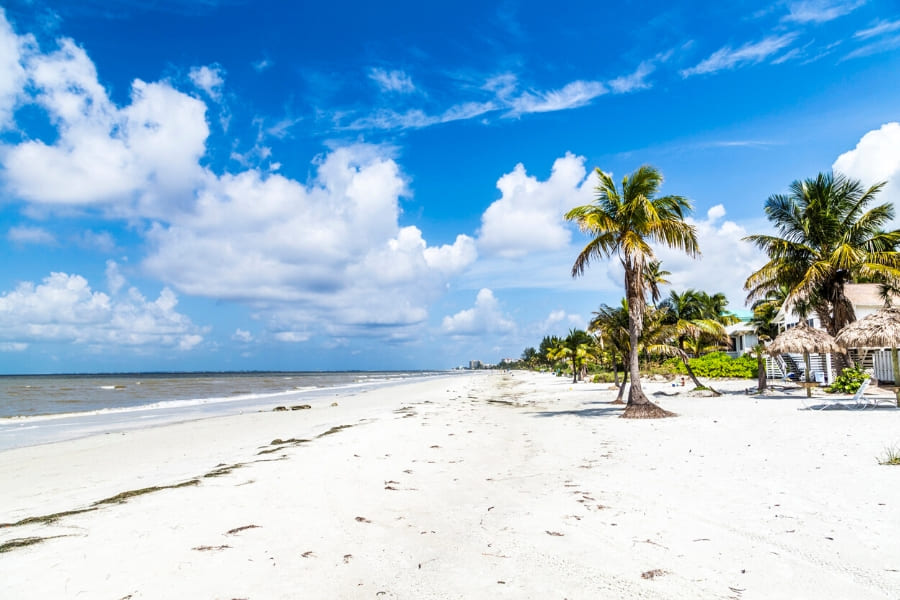 White sandy beaches, plenty of fishing spots and excellent restaurants by the water make Fort Myers Beach the ideal destination for a boat trip. But its neighboring islands are worth visiting as well: San Carlos Island features one of the region's most modern marinas, and Lover's Key State Park amazes guests with untouched nature. No matter if you want to relax on the beach, have a fishing adventure or enjoy Florida's culinary treats with splendid ocean views – Fort Myers Beach, San Carlos Island and Lover's Key are a true haven for hobby-skippers.
Fort Myers Beach
This city on Estero Island is aptly named, considering the 7 mile long beach on its southern coast. Here, powdery white sand and turquoise waters await you – not to mention all the colorful seashells. The quiet surf makes this beach ideal for little guests. On land, access is often restricted by resorts and hotels. Coming by boat, however, you are free to stop, swim and enjoy the sun wherever you want.
Guests who are looking for a particularly quiet and scenic spot should head for Bodwitch Point Park at the northern end of Estero Island. Not only does the park feature a small, charming beach in walking distance to the 10 boating docks. There are also hiking paths running through lush vegetation, as well as barbecue and picnic areas.
But of course you can always leave your lunch box at home and dine at restaurants directly by the water. Located on the northern coast, next to Snook Bight Marina with its 70 docks, is the Bayfront Bistro. In this elegant yet casual restaurants you can enjoy fresh seafood, tender steaks and homemade flat bread.
A bit to the east, next to Matanzas Pass Bridge, Nervous Nellie´s Restaurant draws in guests with delicious fish specialties in epic servings. Mooring at the nearby Moss Marina comes with another perk as well: From there, it is only a 6 minute walk to Times Square with its clothing stores, cafés and restaurants underneath the palm trees.
Fort Myers Beach is also the perfect place for fishing enthusiasts. It is not hard to find a quiet spot at the beach to cast your rod. The city's canals make for a fine fishing ground, too. However, if you are looking for the big specimen, it pays to steer your boat to open waters. Here, you have a good chance of reeling in king mackerels, tuna, tarpons and barracudas.
And of course, there is no reason to limit your trip to one day. You can moor your boat directly at the Pink Shell Beach Resort & Marina. Here guests are greeted by a magnificent banyan tree planted in the center of the lobby. Little tadpoles can enjoy the pool and waterfall, while the grownups are relaxing at the spa. Spacious ocean view rooms and romantic dinners at the beach will make your stay even more worthwhile. Additionally, the resort's marina can house boats of up to 100´.
Port Sanibel
Captains heading towards Fort Myers Beach from the north are well advised to stop at Port Sanibel Marina. The opulent white boathouse in the "Old Florida" style is not its only asset. When it comes to size, the port leaves nothing to be desired, as it provides 95 slips for boats of up to 65´. Thanks to video surveillance and security guards your vessel is in good hands. And if you want, you can use one of the 135 dry storage units.
At the marina you will find boating equipment, clothes and fishing gear. Additionally, a wooden boardwalk runs through pristine mangrove forests teeming with birds. Here visitors get a perfect view of the mangroves´ majestic taproots while comfortably walking on elevated planks.
Hungry skippers are well cared for at Port Sanibel. Situated right next to the harbor is the Lighthouse Restaurant & Bar directly by the water. The restaurant is popular with steak lovers, but also serves excellent seafood like grilled calamari and grouper sandwiches.
San Carlos Island
North of Fort Myers Beach lies the small island of San Carlos, known for its important shrimp industry. The "Pink Shrimps" that are caught here can be found in almost every restaurant nearby – for example Doc Ford's Rum Bar & Grille that serves classic American cuisine with a Caribbean touch and comes complete with its own marina.
If you want to buy fresh seafood for your barbecue, there is no better place than the Trico Seafood Market just a 10 minute walk away. Snappers, crabs, shrimps, scallops, oysters – you are hard-pressed to find more variety than here. Do not forget to grab some of their delicious homemade cocktail sauce before you leave.
San Carlos Island is not just a place to gorge yourself on seafood. If you are interested in South Florida's marine life, you should visit the Ostego Bay Foundation Marine Science Center. The museum not only houses a variety of exhibits and lifelike models, but also lets children cast their nets in shallow waters. Afterwards, the little biologists can examine their catch with the center's experts – a good opportunity for children to learn about the rich biodiversity of Florida's waters.
Lover's Key State Park
In the old days, the barrier islands south of Estero could only be reached by boat. Locals used to joke that only couples would take the long trip to go there – hence the name.
Today, these islands are connected to the mainland via the Estero Boulevard. Nevertheless, boats remain a popular mode of transport, especially if you want to access Lover´s Key Beach without paying the horrendous parking fees. The beach amazes visitors with its fine, white sand, turquoise water and untouched dunes – no wonder that it is a favorite spot for wedding photos. Lucky photographers can even capture dolphins on camera, as the playful animals are known to swim off the shore. Birds like pelicans and fish eagles also frequent Lover's Key, so you should definitely bring some binoculars.
Despite its secluded charm, the beach features showers, toilets and umbrellas for rent. Hungry visitors get their fill at a hotdog stand. After sunbathing and swimming, you should also explore the nearby nature trails where turtles and even manatees can be spotted in the water.
The other side of Lovers Key State Park is equally scenic. Here you can moor your boat for free at the Lovers Key Boat Ramp. Fishermen stock up at the bait shop, and if you want, you can man a kayak to explore idyllic waterways. With a bit of luck you will even see one of Florida's alligators in the water. Another interesting spot is Bowtie Island with its lush vegetation, 3 miles away.
Stranded in paradise, yet surrounded by luxury – this sums up the experience at the Lovers Key Resort. The opulent holiday retreat amazes guests with its private beach and excellent restaurant. Visitors love the ocean view from the spacious suites – because let's face it: There is no better way to end your boat trip than watching the sunrise while enjoying a nice glass of wine on your balcony.