Boat Trips to Sanibel, Captiva and North Captiva Island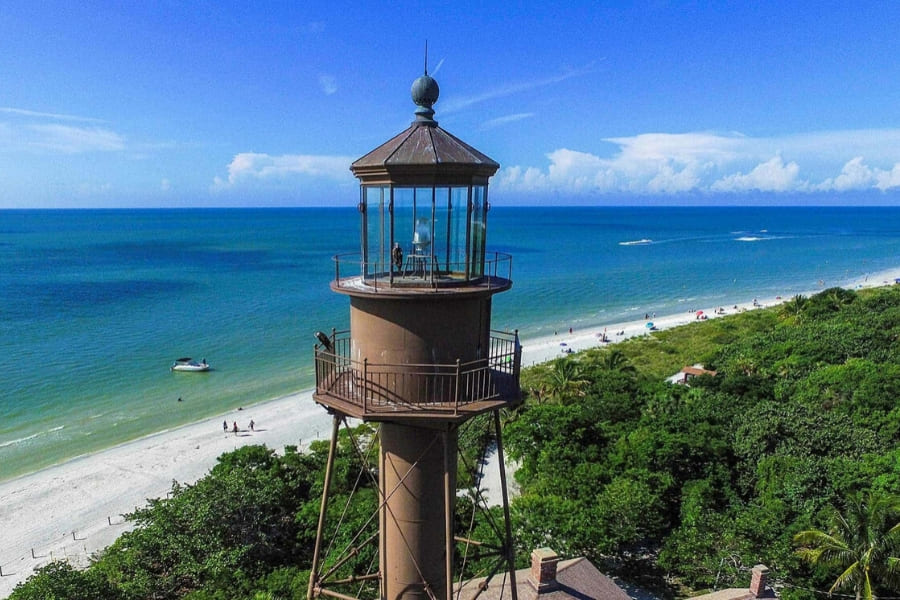 If you want to experience the quiet, idyllic side of Southwest Florida, look no further than Sanibel, Captiva and North Captiva Island. Tropical beaches with colorful shells, untouched mangrove forests and excellent fishing opportunities as well as restaurants and hotels by the water make these 3 islands perfect for a boating trip.
Sanibel Island
Even after the construction of the Sanibel Causeway, this island south of Fort Myers Beach remains a quiet and idyllic place. There are no big hotel complexes here, so the coast is largely untouched. What is more, the island lies only 9 miles away from Cape Coral, making it easy to get to by boat.
Your first stop should be the Sanibel Marina, where 65 boats of up to 70′ can moor. The marina not only provides gasoline, boating equipment and free WIFI. It is also the perfect place for hungry skippers: Gramma Dot's Restaurant serves excellent Clam Chowder New England Style as well as salads, sandwiches and Florida's famous Key Lime Pie.
After having your fill, you should visit Sanibel's main attraction: beautiful beaches. The most popular one is Bowman's Beach in the south of Sanibel. Fine sand and crystal-clear waters are not its only characteristics. The beach is also a prime spot for "Shelling". More than 250 kinds of colorful ocean treasures are found here, especially after storms. Besides collecting shells, you can always just swim in the warm water. And while access on land is often blocked by private estates, you do not have such problems coming by boat. Just pick a part of the beach that suits you and go ashore. If you like fishing, you should definitely bring your rod, as a huge population of snooks can be found near the beach.
Silver Key Beach is especially untouched and void of people – no wonder, as it would take you 30 minutes to hike to this part of the coast. Here you can not only collect shells to your heart's content, away from other vacationers. The unpopulated island Silver Key is also a refuge for many bird species, so it pays to bring your binoculars.
Sanibel's 19th century lighthouse still makes for an interesting photo opportunity. Around this attraction at the island's eastern end stretches Lighthouse Beach. Thanks to the quiet surf, this part of the coast is perfect for families with small children. It should also come as no surprise that the beach is ideal for shelling, so you should bring some buckets and shovels, and leave room for souvenirs on the boat.
The coastal waters of Sanibel are a haven for fishing fans. Here, the sea is teeming with big tarpons, tunas and groupers. Tripletails like to swim around buoys, while trouts, snappers and sheepsheads can be found in the Pine Island Sound. Not only humans like to fish here, and so playful dolphins are a common sight while boating. Bringing binoculars is a good idea if you are driving along Sanibel's northern coast. Situated there is J.N. "Ding" Darling National Wildlife Refuge, an extensive system of mangroves that harbors a variety of water birds like herons, spoonbills and stilts.
If you feel like having a picnic, there is hardly a better place than Picnic Island just 2 miles north of Sanibel. Being just 220 yards long, this islet is perfect for beach-goers who want to enjoy natural surroundings, go camping and light a romantic campfire, which is legal here.
Captiva Island
Located directly north of Sanibel, Captiva Island combines the best of two worlds: While Captiva´s north coast is dominated by untouched mangrove forests, beautiful sandy beaches stretch for 5 miles on the southern side. A lack of parking spots makes the trip by car difficult. Arriving by boat, however, gives you limitless opportunities to pick your spot and go for a swim in the transparent water. The beach is not only known for its colorful shells, but also for Florida's Sand Dollars. These crustaceans that resemble shiny coins are the perfect souvenir for your loved ones at home.
Fishermen have another incentive to head for Captiva Island: Its surrounding waters are home to big tarpons – the main reason why the first hotels opened on Captiva in the 19th century. Redfish Pass off Captiva´s north coast is another worthwhile spot. Here you have good chances of catching not only redfish, but also snooks and sheepsheads.
Whether for a little shore leave or staying overnight directly by the water – there is always a reason to moor at Captiva Island. A popular place is McCarthy's Marina where boats up to 24′ are able to dock. From here, it is only a short walk to restaurants like the Key Lime Bistro with its irresistible desserts. If you really want to spoil yourself and your loved ones, there is no better dining spot than the Green Flash. This upscale restaurant has more than enough docking space, and serves fresh seafood specialties. The spectacular ocean view makes the food taste even better.
Many visitors instantly fall in love with Captiva´s laid-back atmosphere and scenic nature. So why not stay a night or two at the island's hotels? Even big boats of 120′ have no problem docking at the South Seas Island Resort, where 6 restaurants, extensive pools, 7 tennis courts, water sports and a gulf course await you. The Tween Waters Inn Island Resort & Spa and Jensen's Twin Palm Cottages & Marina Resort with its spacious rooms also deserve a recommendation.
North Captiva
You do not know the true meaning of "secluded" until you have been to this island 2,5 miles north of Captiva. What sets North Captiva apart from its southern neighbor is that it cannot be reached by car. Golf buggies are the only mode of transport, apart from the boats that go there.
The perfect mooring spot is Safety Harbor on the west coast. Here you can get your fill at the popular restaurant Mainstay and Barnacles Bar that serves delicious seafood and burgers. Do not forget to taste the homemade ice-cream on the second floor.
Florida's manatees are a common sight in Safety Harbor. Due to their presence you should drive slowly. Nobody on the island is in a hurry anyway. North Captiva only has 300 houses, most of them vacation homes for people who value privacy and quietude. Prices here are considerably cheaper than on Captiva or Sanibel Island.
The west coast is home to a beautiful beach that stretches for 4 miles and amazes visitors with fine, white sand, turquoise waters and lush vegetation. Especially on the southern part that runs up to Redfish Pass, nothing disturbs the idyllic atmosphere – no hotels, no noise and very few visitors. When you are done enjoying the beach, you can also head for David Steven´s Fishing Shack. This hut off the east coast near the harbor may not look like much. However, it gained some celebrity status after it was used for a Sport´s Illustrated photoshoot
A highly recommended hotel is the North Captiva Island Club, complete with two big swimming pools, spa, tennis court, kayak and water-ski rental and an excellent restaurant. You can dock your boat right at the hotel's marina. However, due to its huge popularity, you should make a reservation in advance.